16 Reasons Why Mitt Romney Would Be A Really, Really Bad President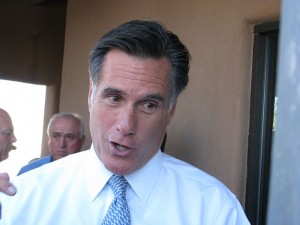 At this point, it appears very likely that Mitt Romney is going to be the Republican nominee for president in 2012.  He has raised far more money than any of the other candidates, he is leading or is near the lead in all of the early states, the mainstream media have anointed him as the frontrunner and a number of recent polls show that most Republicans fully expect Romney to win the nomination.  So will Mitt Romney be the next president of the United States?  Well, he certainly fits the part.  He looks like a president and he speaks very well.  But when you look at what he really stands for that is where things become very troubling.  The truth is that Mitt Romney is either very wrong or very "soft" on every single major issue.  It would be a huge understatement to refer to Mitt Romney as a RINO ("Republican in name only").  When you closely examine their positions, there is very, very little difference between Mitt Romney and Barack Obama.  Sure, Romney and Obama will say the "right things" to the voters during election season, but the reality is that a Romney administration would be so similar to an Obama administration that you would hardly know that a change has taken place.  What you are about to read about Mitt Romney should alarm you very much.  Mitt Romney would be a an absolute disaster for this country, and America cannot afford another disastrous presidency.
The fact that Barack Obama looked sharp and could give inspiring speeches helped him go a long way back in 2008.  Well, it is the same thing with Romney.  The guy looks very presidential and he sounds very presidential.  When backed into a corner, he is extremely slick.  He rarely makes mistakes and he is very polished.
Mitt Romney is a "politician" in the worst sense of the word.  As his past has demonstrated, he will do and say just about anything in order to get elected.  The positions he has taken during this campaign season have been carefully calculated to help him win both the Republican nomination and the general election.
That is why so many call Mitt Romney a "flip-flopper".  Romney will take just about any political position if he thinks that it will help him.  Mitt Romney's wife, Ann Romney, once made the following statement about her husband….
"He can argue any side of a question. And sometimes you think he's really believing his argument, but he's not."
So keep that in mind while reading the following information.  Mitt Romney is trying to claim that he is a "conservative" and that he is looking out for the American people, but those claims simply are not true.
The following are 16 reasons why Mitt Romney would be a really, really bad president….
#1 Obamacare was one of the worst pieces of legislation ever passed by the U.S. Congress.  Mitt Romney says that he would repeal Obamacare, but the reality is that Romneycare was what Obamacare was based on.  In fact, a recent MSNBC article brought to light some new information about the relationship between Romneycare and Obamacare….
Newly obtained White House records provide fresh details on how senior Obama administration officials used Mitt Romney's landmark health-care law in Massachusetts as a model for the new federal law, including recruiting some of Romney's own health care advisers and experts to help craft the act now derided by Republicans as "Obamacare."

The records, gleaned from White House visitor logs reviewed by NBC News, show that senior White House officials had a dozen meetings in 2009 with three health-care advisers and experts who helped shape the health care reform law signed by Romney in 2006, when the Republican presidential candidate was governor of Massachusetts.
Mitt Romney continues to defend Romneycare, but the reality is that it really is a total nightmare for Massachusetts.  The following is how one blogger summarized some of the key points of Romneycare….
• Punitive To Individuals. Everyone must buy health insurance or face tax penalties equal to 50% of cost of standard policy.
• Hundreds of millions of dollars being spent on free hospital care were converted into subsidies to help the needy buy insurance.
• A health insurance "exchange" was established to help connect the uninsured with private health plans at more affordable rates.
• Health plans can offer consumers higher deductibles and more restrictive physician and hospital networks in order to lower costs.
• Punitive to Businesses with 11 or more workers that do not offer insurance must pay a 5 per employee fee.
• Established payment policy advisory board; one Board member must be from Planned Parenthood. No pro-life organization represented.
• Provides Taxpayer-Funded Abortions for copay of .
So what have been the results of Romneycare in Massachusetts?  According to the Daily Caller, health care costs and health insurance premiums have gone up dramatically in Massachusetts….
Since the bill became law, the state's total direct health-care spending has increased by a remarkable 52 percent. Medicaid spending has gone from less than billion a year to more the billion. Many consumers have seen double-digit percentage increases in their premiums.
All of that certainly sounds a whole lot like Obamacare.
Unfortunately, the other Republican candidates have not taken advantage of this weakness.  According to one brand new poll, 6 times as many Republicans view Romneycare unfavorably as view it favorably.  This is something that the other candidates should be jumping on big time.
#2 During his time as governor of Massachusetts, Mitt Romney significantly raised taxes. The following is an excerpt from a CBS News article….
Mitt Romney's Harvard MBA and gold-plated resume convinced many business leaders he would follow in the tradition of corporate-friendly Republicans when he was elected governor of Massachusetts in 2002.

Within three years, some had a vastly different opinion, after Romney's efforts raised the tax bill on businesses by 0 million
The same article also notes that Romney jacked up "fees and fines" on Massachusetts taxpayers substantially….
Romney and lawmakers also approved hundreds of millions in higher fees and fines during his four years in office.
Many in the Massachusetts business community were quite disgusted with Romney by the end of his tenure.  Peter Nicholas, the chairman of Boston Science Corporation, says that "tax rates on many corporations almost doubled because of legislation supported by Romney."
#3 Government spending in Massachusetts increased significantly under Mitt Romney.  An advocate of smaller government he most definitely is not.
This was especially true for the last two budgets passed under Romney.  In fiscal year 2006, government spending in Massachusetts increased by 7.6 percent.  In fiscal year 2007, government spending in Massachusetts increased by a whopping 10.2 percent.
#4 It turns out that Mitt Romney is a believer in the theory of man-made global warming.  In fact, Al Gore recently praised on Mitt Romney on his blog. In a post entitled "Good for Mitt Romney — though we've long passed the point where weak lip-service is enough on the Climate Crisis", Al Gore lavished the following praise on the former Massachusetts governor….
"While other Republicans are running from the truth, he is sticking to his guns in the face of the anti-science wing of the Republican Party"
Not only that, it is also very important to remember that while Mitt Romney was governor, Massachusetts became the very first state to pass a law to regulate carbon emissions.
#5 If Mitt Romney becomes president, we may actually have "cap and trade" shoved down our throats.  While campaigning for president in 2007, Mitt Romney said that he would support a "cap and trade" carbon tax scheme for the entire world….
"I support Cap-and-Trade on a global basis but not the USA going alone. I want to do it with other nations involved and on a global scale."
#6 Mitt Romney had a horrible record of creating jobs while governor of Massachusetts.  According to Boston Herald business reporter Bret Arends, only one state in the entire country was worse at creating jobs while Romney was in office….
"During the four years Mitt Romney was governor of Massachusetts, it had the second worst jobs record of any state in America…it wasn't a regional issue. The rest of New England created nearly 200,000 jobs."
Read more: endoftheamericandream.com